LOCAL SEO AND GOOGLE MAPS LISTINGS
When we do a search on Google for a product or service that we require, the first thing that appears in the search are all paid adverts. Next you will see those businesses that are on Google Maps, possibly some questions that are regularly asked, then image packs if they are available, and finally the organic website listings.
Given all of these things could potentially be above your website listing, it is without a doubt a worthwhile excercise to make sure that you atleast have a Google Maps Listing in place to help drive traffic to your business and website.
Research shows that almost 70% of users view businesses with complete listings.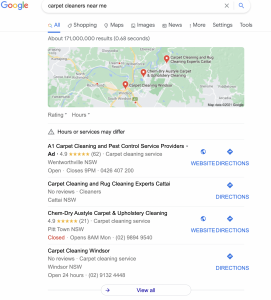 The more complete, the more effective your listing will be. At the end of the day Google My Business drives traffic to your website, to your premises,  pick up the phone or ask for directions, so it needs to be correct.
Regularly check this listing also as anyone can make a suggestion to Google for the information to be changed, that included your location and they can also upload images.
All our websites automatically come with On-Page SEO, if your not sure about your websites performance we can provide an SEO Audit for your website, or read more about certain aspects of On-page SEO in our post on HTTP's